Summer Salad with Pork Chops

recipe
A light summer salad bursting with flavors, this Pork Chop salad will be an instant hit, and a meal in itself. Fresh fruit, crunchy almonds, tender pork, and mixed greens make a hearty and savory salad perfect for steamy summer nights. Serve with a glass of white wine and a side of crusty bread for a truly memorable meal any time.
Ingredients:
4 pork chops, cooked and sliced into thin pieces
8 c. mixed greens
2 nectarines, peeled and segmented
1 grapefruit, peeled and segmented
2 avocados, peeled, pitted and cut into wedges
2 c. cherry tomatoes
2 Tbsp slivered, toasted almonds
salt and pepper to taste
2 Tbsp balsamic vinegar
2 Tbsp honey
½ tsp Dijon mustard
2 Tbsp mayonnaise
1 tsp chili powder
1 tsp salt
½ tsp black pepper
¼ c. olive oil
Directions:
In blender combine balsamic vinegar, honey, Dijon, mayonnaise, chili powder, salt, and pepper. Blend at medium speed for 1 minute, and drizzle ¼ c. olive oil very slowly into blender. Transfer to airtight container and chill until ready to use.

In large bowl lightly toss greens with dressing. Arrange salad as follows: top with cherry tomatoes, sliced pork chop,avocado, nectarines, grapefruit and almonds. Drizzle with more dressing if desired.
Author:
.
Back to the Pork Chop Recipes home page.
Add a Review or Comment:
Conversions
8 cups
about 1893ml (1892.72 mililitres based on 236.59 mililitres in a US cup)
2 cups
about 473ml (473.18 mililitres based on 236.59 mililitres in a US cup)
¼ cup
about 59ml (59.1475 mililitres based on 236.59 mililitres in a US cup)
Data:
Published: April 13, 2012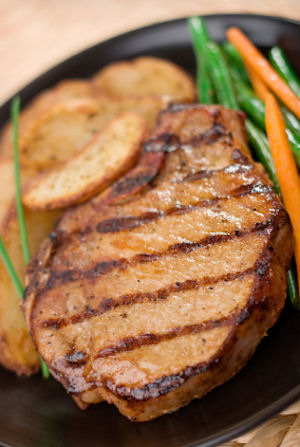 Similar Recipes:
Bourbon Glazed Pork Chops
A hearty meal perfect for summer barbecues and cook-outs! Simple pork chops are glazed with a sweet bourbon-brown sugar marinad...
Balsamic Pork Chops
An oh-so-simple pork dish that makes a perfect dinner dish any night. Tender pork chops are browned,and simmered in a delicate ...
Smothered Pork Chops
A heart, comforting pork chop dish that will liven any winter night, this meat dish takes only minutes to prepare. Pork chops a...