Grilled Pork Chops with Cherries

recipe
Sugar and soy-marinated pork chops are cooked to perfection on the grill and topped with a warm cherry compote. Make extra cherry sauce and save it for the next day's dinner.
Ingredients:
4 pork chops, 1-inch thick
¼ cup soy sauce
1 tablespoon brown sugar
1 tablespoon vegetable oil
½ cup chopped onion
½ teaspoon ginger powder
½ teaspoon garlic powder
1 cup chopped, pitted cherries
½ teaspoon salt
¼ teaspoon freshly ground black pepper
Directions:
Place chops, soy sauce, and brown sugar in a shallow baking dish; cover and chill 1 hour.

Preheat grill to medium heat. Heat oil in a medium skillet over medium heat. Add onion and cook until softened, 2 minutes. Add ginger, garlic, cherries, salt, and pepper, and cook until cherries soften, 5 to 6 minutes. Remove from heat.

Remove chops from marinade and cook on grill, 3 to 4 minutes per side, until no longer pink. Spoon cherries over and serve.
Back to the Pork Chop Recipes home page.
Add a Review or Comment:
Data:
Published: June 14, 2010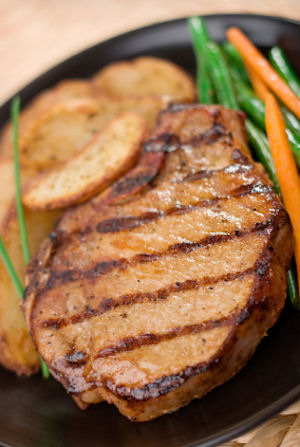 Similar Recipes:
Grilled Pork Chops
Pork chops need little more than a grill and some cupboard seasonings to taste just right. Here, a simple soy sauce marinade so...
Pork Chops with Sour Cream
An easy, comforting pork chop recipe that takes only minutes to prepare and that will turn any winter night into a savory, hear...
Pork Chops in Brine
A shockingly easy and surprisingly delicious pork chop recipe that is so simple you will find yourself making this delicious di...